Buyer Guide: Five Best Jogging Strollers
Five Best Jogging Strollers 
For today's active parents who want to get back into (or keep in) shape, a top jogging stroller list is something they'll definitely want to get their hands on. These specialty strollers are specifically built to allow parents to take their little ones with them when they go out for a run. The following list can help you kick off your search.
Bob Ironman Single Stroller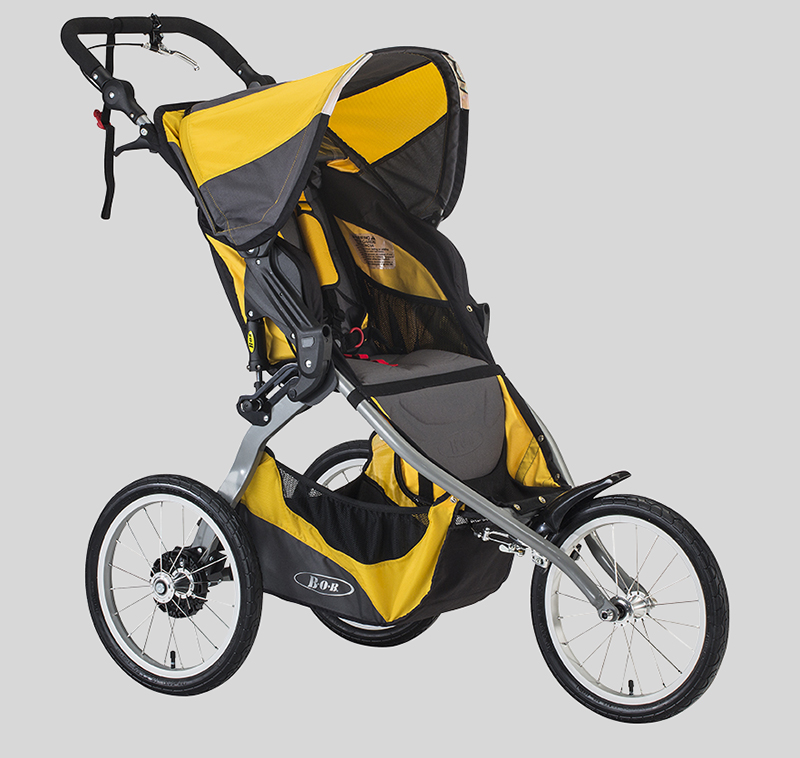 The Bob Ironman Single Stroller is a huge favorite with parents at every physical level, whether they're dedicated track runners or casual joggers. The stroller weighs 21 pounds and is amazingly easy to maneuver. It's got a fixed front wheel and 16" high-pressure tires that move effortlessly over any surface, a plus that city dwellers used to bumpy sidewalks will truly appreciate. The carriage portion is built with a high-end suspension system that helps give your child the smoothest ride. It's got reclining seats that have a thick, lush padding, and your child is held securely but comfortably in place with a five-point padded harness. Another plus for on-the-go parents is the fact that this stroller folds up in the blink of an eye. And for those of you with two little ones, the Bob Ironman also comes in a two-seater Duallie model. It also has a lot of storage, so it's perfect for those after-jog trips to the supermarket. It has a 70lb weight capacity. The Bob Ironman retails for $344.99.
Schwinn Free Runner Jogging Stroller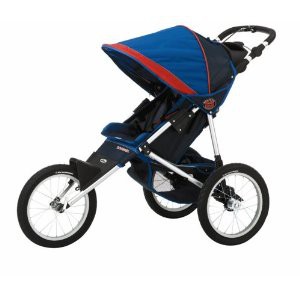 From the wheel-tastic folks at Schwinn comes the Schwinn Free Runner Jogging Stroller. This is the perfect stroller for the active parent that wants a well-made jogging stroller that doesn't take too big a bite out of the wallet. If you're the type that runs on rugged terrain one minute and smooth surfaces the next, this stroller will easily meet your needs. It's 16-inch alloy wheels help ensure a smooth and comfortable ride. It has an adjustable handle that makes it easy for people of different heights to push the stroller. The stroller weighs 27 pounds, and comes with an aluminum frame that folds in a snap and is easy to carry. The carriage portion is nicely vented and shaded, keeping baby cool and snug, or cozy and warm. There's a convenient tray that allows you to lock away your phone, keys, snacks for the baby and whatever else you need in a pinch.
Joovy Zoom 360 Jogging Stroller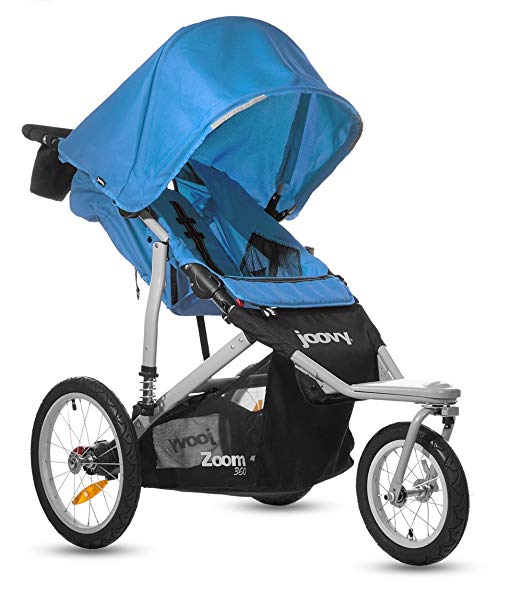 The 28-pound Joovy Zoom 360 Jogging Stroller is one of the most popular jogging strollers on the market. Children up to 75 pounds can sit comfortably inside thanks to the bigger seat that sits higher than a lot of other jogger strollers on the market. It's got a one-hand recline system so your child can sit in any position she pleases. The wheels have alloy rims outfitted with pneumatic tires. The front wheel is 12½", and the two back wheels are 16". The back wheels work independently of each other, increasing maneuverability. Despite its size when open, the Joovy Zoom folds down into an incredibly compact size, perfect for parents who need to switch routes at the drop of a hat. It's got an adjustable front wheel that swivels and can be moved into the position of your choice. This stroller gives your child one of the smoothest rides ever. It doesn't have a rear axle, making it perfect for runners who take big strides. It's made from top of the line, extremely rugged aircraft aluminum, a great feature usually found on more expensive strollers. The Joovy Zoom retails for around $229. 99.
Baby Jogger F.I.T. Single Jogging Stroller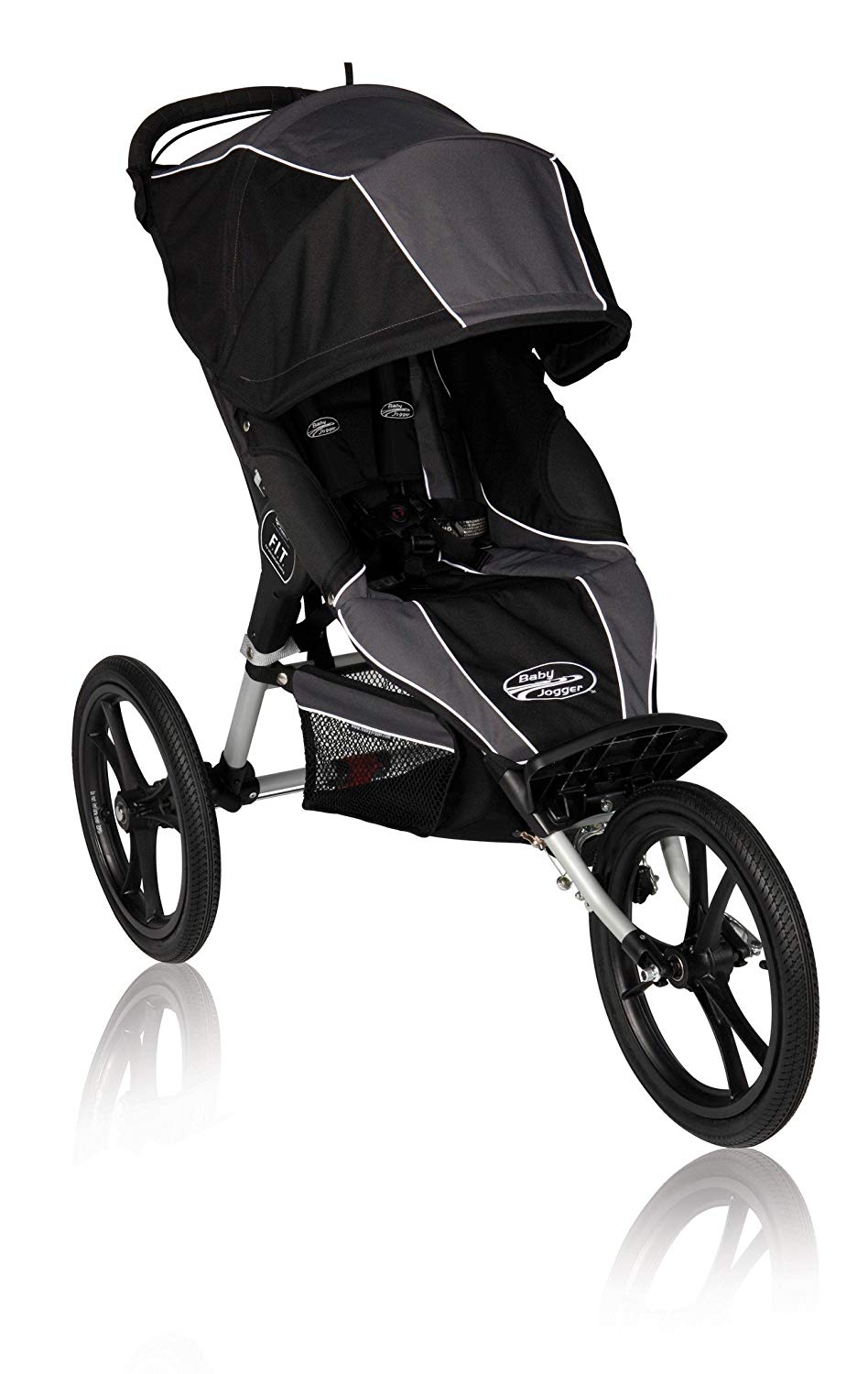 The baby Jogger F.I.T. Single Jogging Stroller is another great fitness stroller than is often compared to the Bob Ironman stroller in terms of quality. It's got 16" pneumatic wheels for incredible ease of use over any type of terrain. It's got a hand brake system that makes it easy for you to stop and go on any terrain. The seat is 24.5" high and 25.25" wide. It's got a nice, deep seat that reclines easily and has a nice padded seat, giving your little one maximum comfort as you race along. The Baby Jogger F.I.T. retails for $299.
Jeep Overland Limited Jogging Stroller with Front Fixed Wheel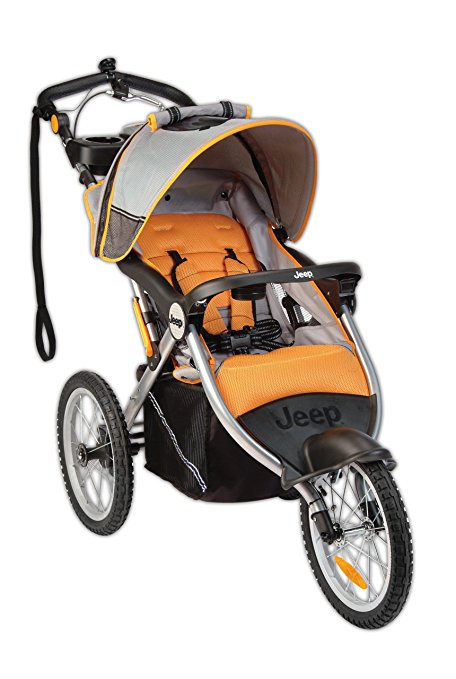 The Jeep Overland Limited Jogging Stroller is another great jogger stroller with a lot of avid fans. It's got a front fixed wheel for added stability and safety, and all of its wheels are air filled. One of the features that people love about this stroller is the "iBaby" sound system that allows parent and baby to groove to the tunes as they ride along. It's got a speed and distance odometer so that you can keep perfect track of your routine. It's got plenty of storage, folds and stores away easily, and can stand upright when it's folded if you need it to. It can easily hold a child up to 45 pounds, so this one isn't for the older kiddos. This stroller retails for $151.54.